When you rent the castello for your event it becomes your home and you are the host.
The unique architecture of the castello with it's central courtyard fosters an ease of closeness amongst guests and creates an ideal environment for coming together.
The main conference/banquet room can accommodate up to 60 people, as can the former wine cellar which can be used as a dining room or activity room.
There are various common lounges scattered throughout the castello for smaller groups and informal meals. The interior courtyard, the panoramic terrace, and the lawn are ideal scenic settings for gatherings, outdoor dining and special events.
During your stay the following will be at your disposal:
Nineteen twin/double bedrooms and suites with private baths and daily
housekeeping services.
Breakfast (lunch and dinner service with open bar and the Chianti certified castello wine can be arranged at additional cost).
Reception area, meeting rooms, communal lounges, dining rooms and cellar.
Outdoor panoramic swimming pool and terrace.
The property's 200 hectares for hiking and walks through olive groves, vineyards and woods. Resident manager on duty at all times for round-the-clock assistance.
---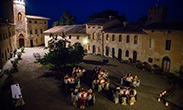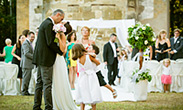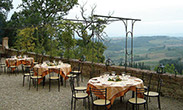 In addition to the standard on-site facilities, the following, amongst others, can be arranged for you and your guests. Let your imagination lead the way:
Old-world Tuscan dinners prepared in medieval fireplace
Flag throwers
Private concerts
Wine tasting
Tuscan cooking lessons
Tuscan art and history lectures
Transportation for individual or group sightseeing and visits
Airport transfers
Thank you. We have received your message and will contact you back shortly.
Something went wrong. Please contact us via email or phone. We truly apologize for the inconvenience.
---
Please visit our Partner sites too!
Wedding planners www.weddingintuscany.info and www.trouwenintoscane.nl
Wedding photography www.funkybirdphotography.com and www.studiobonon.it